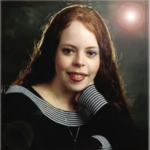 Treasure Lee Genaw, 17, died June 7, 2004, in Berwick, Maine.
She was stabbed multiple times and left on the side of a road by her 19-year-old former boyfriend -Anthony O'Leary.  Treasure had recently learned she was pregnant, and ended the relationship with him, determined to raise her baby in an abuse free environment, but he refused to accept the end of their relationship.  Treasure, who dreamed of becoming a nurse, died just one week before her high school graduation and just two weeks before she would have turned 18 years old.  Her killer was convicted of first-degree murder and sentenced to life in prison with no chance of parole.
By all accounts, Treasure was a remarkable young woman who had already accomplished a lot in her young life and would have contributed greatly to society had she survived.  From Treasure's obituary:
Among so many wonderful attributes she will be remembered for her uncommon ability to "Get it Done", she was a busy and determined young women with strong, clear and heartfully thought out goals for her life. Even though her years with us were few, she already made so many contributions to society. She enjoyed several years as a team member at Dunkin Donuts in South Berwick, enjoying her friends at work and the many customers she saw daily. She was especially proud of her work at the Mark H. Wentworth Home in Portsmouth, where she started as a staff assistant and worked toward and receiving her Certified Nurses Aid certificate this winter, while working another job and going to school full time. She had an uncommon ability with her patients to see across their faces and really feel their emotions, offering a level of care that not only nurtured their physical well being, but also their spiritual well being.

She was an active member of her church, the Family Christian Center in Berwick, singing in the church teen choir, and active in missions. At the age of 14 she worked toward a mission project in Rio Brazil, she spent many hours traveling to other churches and community groups, raising awareness of the struggle so many people faced there, and raising funds to support her trip. She and a group of other teens with a Christian Group traveled to Brazil for several weeks to assist in feeding street people, worked in orphanages, shared the Lord's message and performed plays for many groups. She truly had the heart of a servant.
Treasure's sister, Liz, now speaks to high school students, telling Treasure's story and educating them about dating violence. Follow her journey on Treasure's Memorial page In Loving Memory of Treasure Genaw