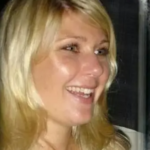 Nicole Sinkule, 25, died October 16, 2005, in Oceanside, California.
She was struck in the head 13 times with a claw hammer by her 25 year-old estranged boyfriend as she slept in her bed.  Nicole had been attempting to break up with him.
In 2007, Nate Marum pleaded guilty to second-degree murder and was sentenced to 16 years to life in prison for Nicole's murder.
Marum had pleaded guilty to domestic violence crimes against Nicole twice before he killed her.  He was placed on probation and court ordered to enroll in a domestic violence treatment program and an inpatient drug and alcohol rehabilitation.  Nicole was issued a protection order against him.  Twelve weeks into the domestic violence program, Marum convinced Nicole he had changed, and she gave him another chance.  At their request, the court dropped the protective order.  Four months later, she was dead.
Nicole's family plans to attend Marum's parole hearings to try to make sure he is never released.
Visit The Nicole Sinkule Foundation website.
Visit their Facebook page, Nicole Sinkule Foundation.