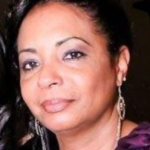 Gladys Cabrera, 52, died Thursday, October 18, 2012, in Casselberry, Florida. 
Gladys was one of three women who died in a shooting rampage at a Casselberry hair salon after a 36-year-old man walked in with a gun targeting the manager and owner of the salon – his 44 year-old ex-girlfriend and her business partner.  The two women were due in court that afternoon to try to get a permanent injunction against him.
Gladys was a customer at the salon that day, they were having a girl's day with her adult daughter.  Gladys was sitting in a salon chair having her hair done when the gunman walked in and within a minute, he fatally shot two employees of the salon, shot and gravely injured his ex-girlfriend, and fatally shot Gladys in the head as she sat in the chair.  Her daughter survived the rampage.
Gladys' killer, who had a long history of criminal behavior including domestic violence and stalking crimes dating back years, committed suicide at a friend's home not far from the salon.
Gladys, who lived in Apopka, Florida, was a wife, a mother of four, and grandmother of three.  Her death is a reminder, once again, that any one of us, at any time, could become a victim of domestic violence.
*The additional victims that day were salon employee Noelia Gonzalez-Brito, 28, of Kissimmee, Noelia's unborn child, and salon owner Eugenia "Mari" Marte, 45, of Orlando.  The gunman's ex-girlfriend, who was shot multiple times, has a long road of recovery ahead of her.
Read more:
Women feared Casselberry gunman before mass shooting at Orlando Sentinel