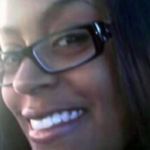 Tiana Angelique Notice, 25, died on Valentine's Day, February 14, 2009, in Plainville, Connecticut.
She was ambushed and stabbed 18 times outside her apartment by her 25 year-old ex-boyfriend, James Carter II, who was determined that if he couldn't have her, no one could.  Tiana had ended a relationship with him the previous November, but he repeatedly harassed and threatened her.  Weeks before her murder, she requested, and was granted, a Protection Order against her Carter.  He repeatedly violated the Protection Order without consequence of until the day of her death, despite Tiana's and her family's pleas for help from the police.   In 2012, Carter was convicted of her murder and sentenced to 60 years in prison.
In 2014, Tiana's estate was awarded a $10 million judgment after a jury determined that officers from two police departments were negligent in how they handled her domestic violence complaints.  Connecticut's Office of the Victim Advocate released an investigative report outlining the events leading up to Tiana's murder.  This report sadly exposes what Tiana was dealing with in her community – inadequately trained police officers and a judge who did not seem to recognize the ominous signs of a rapidly escalating high risk domestic violence situation, a lack of understanding of both domestic violence offenders and victims, and a lack of understanding of the Protection Order laws the state of Connecticut has in place to protect victims of domestic violence like Tiana.
Tiana's murder also served as a catalyst for the state of Connecticut to pass legislation for the use of GPS monitoring for high-risk domestic violence offenders.
Tiana was destined for great things. She finished her high school degree at Fitchburg State College and received her undergraduate degree from University of Hartford. At the time of her death, she was a graduate student in the University of Hartford's Communication Department, just one semester shy of receiving her master's degree. She was very active in human service causes and was considering a career in government, politics or law. Tiana was also known for her love of music and singing, and for her colorful purple outfits.
Visit The Tiana Angelique Notice Foundation.