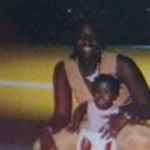 Tonya Raines, 37, died December 5, 2007, in Riviera Beach, Florida.
She was abducted then fatally shot by her former boyfriend, Isaac Benjamin, during the police car chase that followed her abduction.
Tonya's former boyfriend showed up at her home after an earlier argument, chased her around her yard, and began hitting her in the head with a gun after she refused to talk to him. Tonya's pregnant daughter, hearing the noise outside, came out of the home and yelled in defense of her mother, and he began firing shots at her. To prevent him from continuing firing gunshots at her daughter, Tonya agreed to talk to him, but when she got within his reach, he forced her into his car and drove off. The police had already been called and were able to catch up to him, but he led them on a police chase, exceeding speeds of over 110 miles per hour. As police were closing in on him, they saw a muzzle flash from the gun light up the passenger side of the vehicle. His car then overheated, and he was forced to pull over to the side of the road, where he shot himself in the head before police could reach him inside the vehicle. Police found Tonya dead in the passenger seat from a gunshot wound to the head.
Benjamin had a history of domestic violence arrests and one conviction, and Tonya had ended the relationship with him months before her death because of his abusive behavior, including beating her with a clothes iron and a broom. She had a no-contact order against him.
Tonya was a bubbly, vibrant young lady, a mother of two, who was loved by all who knew her.