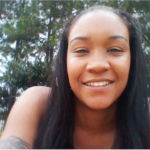 Korean Taie Bowden, 32, died September 9, 2011, in Riverdale, Georgia.  Korean's 33 year-old live-in boyfriend stabbed her multiple times with a kitchen knife and hid her body in a bedroom under some clothing.  This was the beginning of a four-day-long ordeal for Korean's three young daughters who were bound with zip ties, gagged with duct tape, and horribly brutalized.
Channel 2's Tom Jones reviewed suspect William Nazario's arrest warrants, which said he tied up the children before stabbing 32-year-old Korean Bowden. Family members said they urged Bowden to end her tumultuous relationship with Nazario, 33, but it didn't work. Police said they found Nazario's confession letter in the bedroom where Bowden's body was found.
Originally indicted on 26 counts, including murder, kidnapping, rape and child molestation, Korean's murderer pleaded guilty to felony murder, aggravated assault, concealing a death, and multiple counts of aggravated battery and cruelty to children.  He was sentenced to life in prison plus several 20-year sentences which will run concurrently to his life sentence.  He will be eligible for parole at age 65.
Korean was a graduate of Georgia State University, as well as Xavier University in New Orleans and received two psychology degrees.  Korean, who deeply believed in the value of education, was working hard to make sure each of her children could receive good educations.  Korean touched many lives and nearly 1,000 people attended her funeral.
Visit Korean's Memorial Facebook Page at RIP Korean (Taie) Bowden